Google 2-Factor Authentication (2FA)
During the month of December 2021, North White School Corporation will be rolling out a technology called "two-factor authentication" within Google. You may know it by other names like "2FA", "two-step verification", or "multi-factor authentication (MFA)".
What is two-factor authentication?
Two-factor authentication adds a second layer of protection during the login process. Currently, your Google login is tied to "something you know" (your password). Two-factor authentication adds the second layer of "something you have" (typically your smartphone, a temporary code, or absent that, a USB security key). You most likely already have experience using two-factor authentication with an online banking account so enabling it within Google hopefully will not be a new experience.
Why are we implementing two-factor authentication?
Our cyber insurance provider's requirements for our organization are driven by an ongoing review of what security-related best practices are appropriate. The following changes are motivating factors in our cyber insurance provider requiring North White School Corporation to implement two-factor authentication. Times are changing and hackers are finding new and creative ways to acquire user passwords; they can buy lists of usernames and passwords on the dark web, they can use social engineering and email phishing tactics to steal passwords, they can use something called "dictionary attacks" as a brute force method to guess weak passwords. Adding a second form of verification dramatically decreases the likelihood of your password being compromised.
How often will I need to use two-factor authentication?
Google will require two-factor authentication every time you log in to your PC or Chromebook. Once you authenticate and complete two-factor authentication on your phone or other devices you will have the option to "remember this device". From that point on Google will not prompt you to perform two-factor authentication on that device unless you clear your browser's cache, change your password, or if Google suspects that your account has been breached.
What's the timeline for this change?
We will be migrating people during the month of December 2021, you will receive an email with instructions when Google 2-Factor Authentication is available beginning on November 29, 2021. You will be given an end date, January 7, 2022. by which you will need to enable two-factor authentication. If you do not enable two-factor authentication by the date listed you will be locked out of your account and you will need to contact Steve Land or Stephanie Mattix to regain access. You will be reminded to enable two-factor authentication during the grace period leading up to the end date listed in the email. An example notification message will look like this …
If you have a smartphone and you are interested in enabling it now feel free, we encourage it! Directions for enabling two-factor authentication (or as Google calls it "2-Step Verification") are below in the section labeled "Steps for enabling Two-factor Authentication."
What two-factor authentication method should I use?
There are several methods you can use to complete two-factor authentication. They are….
Use a Google application (e.g. the Gmail App) configured on your phone (recommended)
Use an authenticator application such as Twilio Authy or Microsoft Authenticator
Use a USB key that you plug in to your computer. A USB security will be provided. (This will not work to allow login to a Windows 10 computer. A Google application or code will be required.)
Use text messaging (the least preferred backup method)
Print 10 pre-established backup codes
The Google application method mentioned above is called a "push" authentication. With push authentication you just have to bring up a Google app on your phone and acknowledge the two-factor request. On an iPhone we suggest you use the Gmail app or the Google Search app (both are free in the App Store, just log in to either app with your North White email address). On an Android you just need to be logged in to email with your North White (@nwhite.k12.in.us) address. It is important that you setup backup methods for completing two-factor authentication in the event that you do not have your phone. To setup backup methods once two-factor is enabled, go to https://myaccount.google.com/ and select "Security" on the left, click the right arrow next to "2-Step Verification", enter your password, then follow the prompts in the section labeled "Available second steps".
Steps for enabling Two-factor Authentication
In a web browser visit your Google settings page located here https://myaccount.google.com and select "Security" on the left.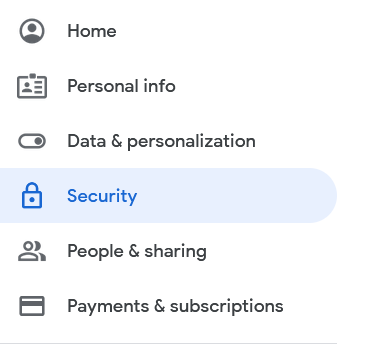 3. (Optional Step) In the center of the page scroll down to the section labeled "Ways we can verify it's you" and make sure you have a recovery phone entered, if not add it now.

4. (Required Step) Also located on the "Security" page go to the section labeled "Signing in to Google" and click the right arrow next to "2-Step Verification".

5. Select the "GET STARTED" button, you will then be prompted to enter in your North White password.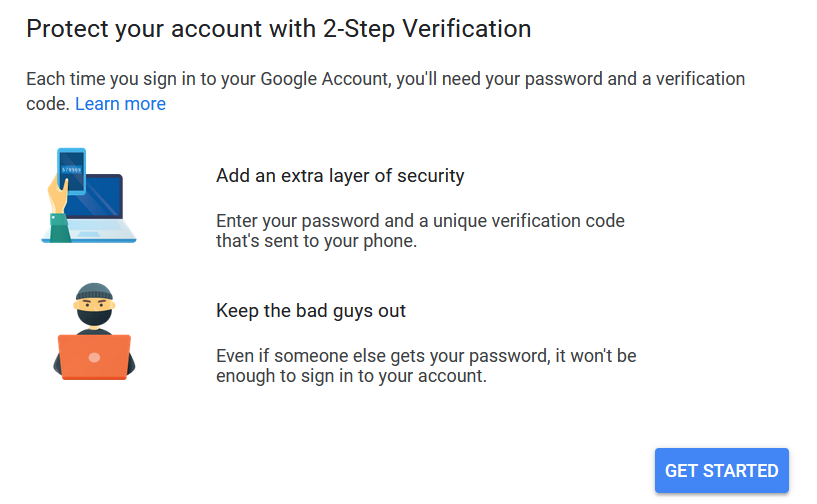 6. It should show that your phone is already known to Google, select the "CONTINUE" button.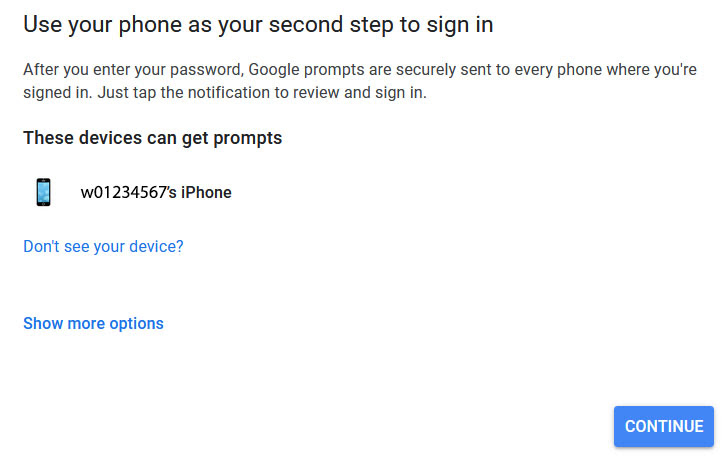 7. Google will then send you a test message through the app you configured on your phone (GMail or Google Search). You may have to open the app to complete the confirmation request. Select the "Yes" button. If you have any doubt, Select No.
8. You will then be asked to configure a backup method to complete two-factor authentication. Select the "Text message" option and click "SEND"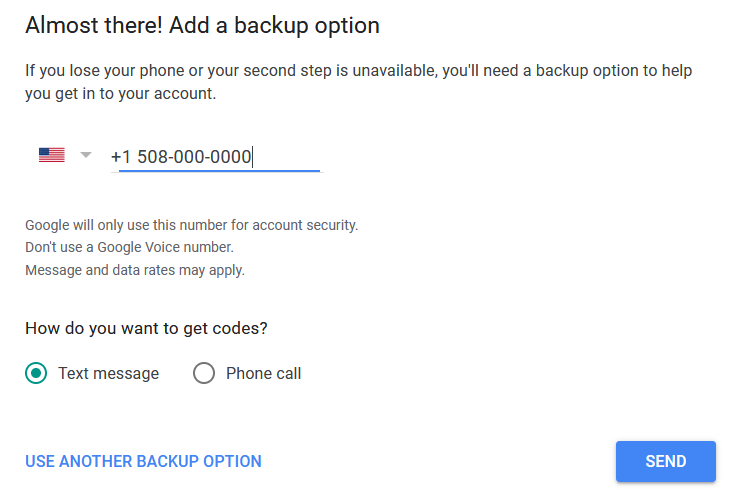 9. You will receive a text message from Google with a code, enter that code in to the web site and click "NEXT"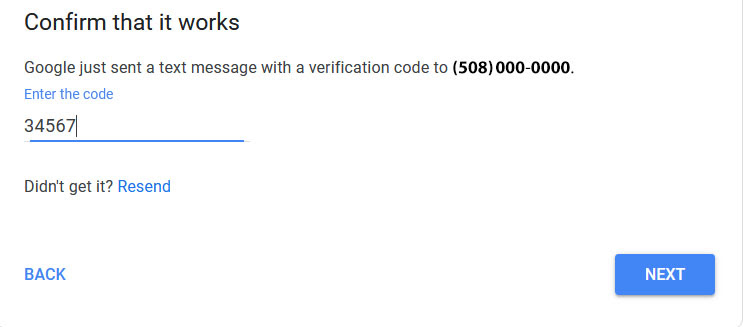 10. Lastly, confirm that you want to enable 2-Step Verification by pressing the "TURN ON" button.
It will take you to the 2-Step Verification page. Here you can review your settings and optionally configure alternate methods to complete two-factor authentication.
What are my support options when setting up two-factor authentication?
Submit a Help Desk ticket using one of the Help Desk links on the Faculty or Staff Member menu on the North White website. When creating a ticket, select "2-Factor Authentication (2FA)" -> "Google – 2-Factor Authentication"
We will be hosting drop-in hours (to be determined) to assist individuals or small groups